BookLife Reviews - An Example
Every BookLife Review Contains a Variety of Marketing Insights and Critical Assessments

Every BookLife Review that appears in print contains the following elements.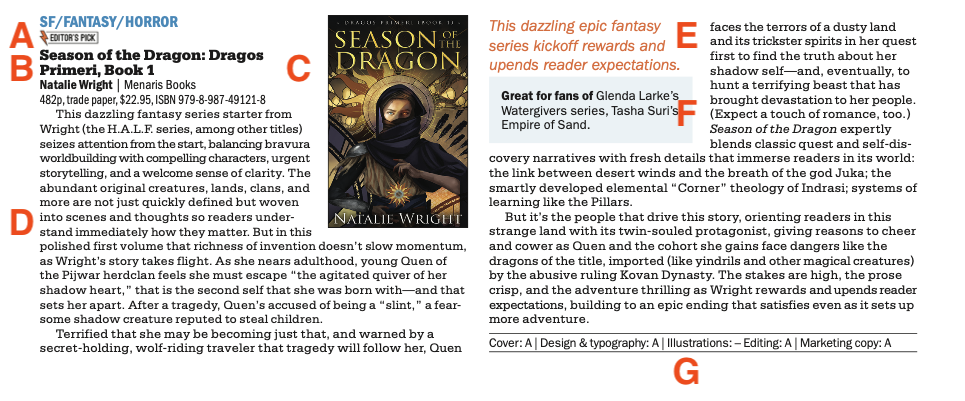 A. Editor's Pick Lightning Bolt
Superlative books may be selected as Editor's Picks, indicated by a lightning bolt and "Editor's Pick" box next to or above the title.
B. Book Meta Data
Title, author(s), format, price, page-count and ISBN or ASIN: all of the elements necessary for booksellers, librarians, and/or consumers to find your book.
C. Cover
A full-color version of your book cover appears at the top of your review.
D. The Review
Three full paragraphs (about 300 words) of plot summary, critique, and analysis of your book, including an assessment of which readers are most likely to enjoy the book.
E. Takeaway
An honest, positive single sentence that summarizes the reviewer's opinion of the book's best aspects and likely audience.
F. Comp Titles
Our reviewer's take on what titles and/or authors compare with your book.
G. Production Grades
Letter grades for five production elements: cover art, interior design and typography, illustrations (if applicable), editing, and marketing copy.
More Information
Check out the BookLife Reviews FAQ and our BookLife Reviews Terms & Conditions.